Discographies
Live History
Television
Polaroids
Articles
Carrier Bag
Links
Yahoo! Group
Contact

If you enjoy this site and would like to make a contribution to the running costs, please click the link below to make a donation by Paypal. Thankyou.
With many thanks to Jonas Warstad and Lech Linkiel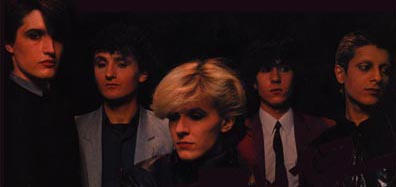 In September 1969 David Batt started at Catford Secondary School and was placed in the same class as Anthony Michelides and Richard Barbieri. Richard sat at the front of the class and was hardworking; Anthony (or Mick as he was known to classmates) was the class clown and David was the quiet loner sitting at the back.
David and Mick soon became friends. Mick calmed down a bit and David gained more confidence through their friendship. David introduced Mick to his brother Steve, who was a couple of years below them in school. David and Steve's father was a builder, his mother a housewife. They also had an older sister, Linda. David inherited his looks from their mother, whereas Steve took after their dad. Music and Science Fiction were their main interests (Mick's assumed surname of Karn may have been inspired by a Dr Who story "The Brain of Morbius" featuring the very glamorous "Sisterhood Of Karn"). As David and Steve's sister was a few years older, they grew up listening to her favourite Tamla Motown and other black artists such as Smokey Robinson, Marvin Gaye and The Jacksopn Five. Later, they discovered Bowie, Velvet Underground, New York Dolls and Roxy Music. David also became fascinated with Andy Warhol and the whole New York pre-punk scene. It is interesting that in 1975, Japan went to see Roxy play live, and the support group was the Sadistic Mika Band, featuring their future friend Yukihiro Takahashi on drums. Richard Barbieri, though sharing their interest in Bowie and Roxy, was also a fan of hard and progressive rock such as Hawkwind, Led Zeppelin and ELO. He also had a big interest in football and tennis, and at the time had his own group of friends outside school. The idea of forming a band came up between David, Steve and Mick as something to do outside of school hours, as they did not have the interest in sports that Rich had. Christmas 1973, David and Steve got a guitar and small drum kit as presents. Mick was to be the lead vocalist, but he also had other musical commitments:
Mick Karn: "Something of a myth has grown up. The biogs always say that I'm a multi-instrumentalist and that I had a background in classical music. Yes, I was in the LSSO as a bassoonist, but I was never really classically trained. They tried to train me, but it really never worked. As an adolescent, I'd always wanted to play an instrument. I observed that other people seemed to enjoy it, and I wanted to find the one that would make me feel the same. I tried the mouth organ, the violin. I was unlucky in my choices. I was slow at reading music and I relied on playing music by ear. The same thing happened with the bassoon. I'd been playing for six months and there was an audition for the LSSO which my school sent me to. I went along; they were thrusting sheets of music in front of us as tests. I asked the guy next to me to play it quickly so I could pick it up quickly by ear. Somehow I got chosen and it devastated me; it was the last thing I was expecting. I was playing in an orchestra when I wasn't up to the job. Instead of being the enjoyable thing I'd envisaged it was very traumatic." Rescue came from an unexpected quarter. "On my way home to Catford after the first LSSO concert, my bassoon was stolen by a group of skinheads. They asked me what was in the case. I told them. They showed me a broken bottle. I gave them the case. It was very simple. The school wouldn't buy me another bassoon, so in retaliation I bought a bass for £5 from a kid at school and got together with David who was playing acoustic guitar." ("Karnal knowledge" by Louise Gray, The Wire 122, April 1994)
David also had a hard time at school.
David Sylvian: "I started wearing make-up and dyeing my hair when I was about 14 or 15. It wasn't the done thing at school. I was naive enough to think that the other kids would side with me against the authorities. But I was wrong - they beat me up instead. So I stopped going. When people don't understand what's going on they treat you with violence. But that only made me more determined. I've always been extremely stubborn, and that helped me along at the time. It was a cause of concern for my parents in those days. They were very worried about what would happen to me. And also about what was going on in my mind. They often used to try to persuade me to change my appearance - for the sake of a peaceful life. " (from "Beauty & The Beast" by Huw Collingbourne, Flexi pop, December 1981)
David Sylvian: " I was thrown out (of school) towards the end because of my appearance." (Smash Hits 3~6/9/81)
David, Steve and Mick's first concert was at Mick's brother's wedding. Minutes before they were due to go on, an attack of nerves on Mick's part led to a reluctant David taking on lead vocal duties.
Mick: "...Reluctantly because he's never really liked the limelight, and still doesn't. It was a set decision that we made, in years to come, that I would be the one moving around and doing crazy things so people wouldn't focus on him so much. The actual words that Dave was singing were always much more important than the melodies; he was never a very strong melody writer, so he was looking to me for that, too. I guess that was the training of making the bass the lead vocal and letting the other vocals kind of sit on the surface. It was interesting." ("Tooth or dare" by Gibson Keddie, Bassist & Bass Techniques, Oct 1996)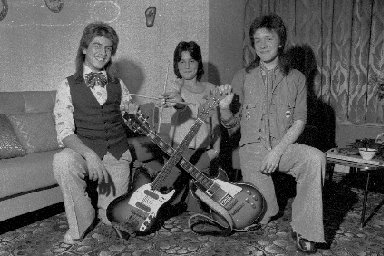 Their first "paying" gig was at a South London college in June 1974. At the time they were featured in the local press, photographed in David and Steve's home.
Mick Karn: "The name Japan was chosen in desperation. Minutes before our first appearance we realised that we should have a name. Dave suggested calling it Japan for the time being until we could think of something better. I liked it. The rest of the band didn't. But the name stuck. (The concert)... it went awful. Terrible. After the gig we virtually locked ourselves away and just rehearsed and rehearsed." (Smash Hits 29/10~11/11/81).
The rehearsals took place initially at David and Steve's house, but after a few months they were allowed to use a room above Mick's dad's butchers shop. The way the band worked was that David wrote most songs at home, in private, on accoustic guitar. Then at rehearsal he would play his songs to the other two and they would work on the arrangements together. This method of working remained in place until the time of "Quiet Life", when more of the work was composed on piano, or totally in the studio.
After 18 months of rehearsals, the group knew they needed more members to achieve the kind of sound they wanted. They decided to place an advertisement in Melody Maker magazine. The best guy who responded was 22 year old Rob Dean, who with his great technique took on lead guitar duties. At this time (late 1975) on a train journey the group bumped into old school friend Richard Barbieri (at the time working for Barclays Bank) and asked him to play keyboards. In the group's early days a common story was that Richard was told to go away and practice for 6 months before he could join!
In reality, after a couple of months rehearsals their first performance together was in London on Valentines Day 1976 supporting The Fabulous Poodles.
Rich: "It's very hard to say what the influences were. I was into the overblown, pompous progressive bands, but I guess we were also into that whole Glam thing, plus Tamla Motown." ("Rich Pickings" by Phil Ward; interview by Andrew Jones, Keyboard Review, Sept 1994)
Mick: "Our sound was something we developed together, drawing inspiration from each other. The one thing I knew about my bass playing was that I didn't want it to sound like anyone else's, and most of all I wanted it to be heard clearly, and not lie buried merely marking the beat." ("Mick Karn - en basartist" by Michael Dee, Musiker Magazine, June 1994, translated from Swedish to English by Lech Linkiel)
Steve's favourite drummer was Yukihiro Takahashi, then in the Sadistic Mika Band, who Japan had seen live in concert. Steve says about Yukihiro: "I've always admired him since the Sadistic Mika Band, years ago, and he struck me then as a really good drummer. Then when I heard he'd worked with Y.M.O. I was convinced. He has influenced me - he's about the only influence I can pick out. I don't know if he knows it - he probably does!" (from an interview with Betty Page)
Throughout 1976 the band practiced hard and then began to look for more live engagements. Later on in the year they arranged a 2 week residency at a club called The Big End in Munich, Germany themselves, but before they could go there was a major development: they were introduced to their future manager, Simon Napier-Bell.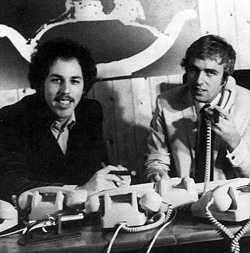 [image: Ray Singer and Simon Napier-Bell]
Japan were introduced to Simon by Danny Morgan, who was serving a kind of apprenticeship in rock management with the more experienced businessman. Simon Napier-Bell was a very well known face in the rock industry, having managed or discovered acts such as Marc Bolan and The Yardbirds, plus he had worked with Dusty Springfield. In the early 70's he had become disenchanted with managing bands and he produced a few albums with Ray Singer before taking some time off to travel the world and have fun. When he returned to London in 1976 the music business had changed and he took on Danny Morgan basically as a talent scout. Morgan discovered Urchin (who became Iron Maiden) and Japan. He arranged an audition for the group, but initially the manager was only interested in signing David:
Simon Napier-Bell: "From the second I saw David Sylvian, I knew he was a superstar. It was the same old thing. Knowing somebody's a superstar doesn't mean they're going to be a superstar this week. It could be next week or never. But I jumped in. I was out of touch with the scene so I wasn't aware of any problems with Sylvian's image, music or style. I just thought it was all fantastic" (from Johnny Rogan's book "Star makers and Svengalis")
David was offered a solo deal, but he did not want to go it alone and Napier-Bell eventually signed them as a group. So, with Simon as their manager, Japan were in a position to look for a record deal. However, they decided to go ahead with the trip to Munich, despite advice that it would be a bad move and something they just didn't need to do.
David: "During our first visit to Germany we had no hotel, were supposed to play in a dump and things were just awful" (Smash Hits 3~6/9/81)
After the trip to Munich, which involved a stay in a cockroach infested hotel room, Napier-Bell got to work selling Japan to the record companies. He was out of luck. The punk boom had changed the way record companies were looking at bands. Japan went against the grain. While scouting for business, Napier-Bell gained Japan some live experience by securing them on tour slots with The Damned and Jim Capaldi. He also bought new equipment and paid them living expenses. After running up debts with Napier-Bell Japan were lucky to gain a contract with German company Ariola-Hansa.
At the time, Hansa had come to the UK and were looking for fresh talent by means of a competition (there was a large advert with an impressive looking woman astride a motorcycle, stating "Wanna be a recording star? Get your ass up! Take your chance!"). Japan auditioned for Hansa at Morgan Studios on Friday 13th May 1977. The winners of the contest were The Cure, but in true Gareth Gates style Japan were also signed just 3 days later (May 23rd 1977) and given £1000 to buy new instruments - which was part of the advertised prize, although it has been denied that they had anything to do with the competition. The following information may make things a little clearer - information courtesy of Robert Smith:
"There was a competition at the back of the Melody Maker. You had to send Hansa a tape and some photos. We ended up doing a three song performance for them in front of a video camera, and they signed us on the strength of what we looked like."
Then The Cure were put into the studio, and emerged with three classics - "Killing An Arab", "Boys Don't Cry" and "10.15 Saturday Night" - all of which Hansa refused to release and henceforth proceeded to drop the group (after attempts to get them to perform cover versions, hmm, sounds familiar doesn't it - read on). Just after that, Japan were given more attention. As with The Cure, Hansa funded studio time, and Japan, with an average age of 17, were allowed to develop their style. However, wanting to please their new manager, Hansa and themselves, they faced a difficult task finding the right direction. This is despite David's assertion that they had 100% artistic control, but he has since said that it was a case of him not being mature enough not to be persuaded in certain directions by other people. It is interesting to see that unlike The Cure, Japan were prepared to (or rather, were interested in) making more supposedly chart-friendly disco influenced material. A demo tape of this early Hansa material shows them attempting to do what Trevor Horn later succeeded doing with Frankie Goes To Hollywood - disco music mixed with rock guitars. By Autumn 1977 the group had amassed around 20 songs from which to pick material for their debut album, which was recorded with Simon Napier-Bell's partner Ray Singer
Meanwhile, their manager and Hansa began to work out strategies to make them famous as quickly as possible.
Simon Napier-Bell's initial strategy was to capitalize on one of Japan's songs, "Adolescent Sex", which could really be called "Whatever Gets You Through The Night", but the more controversial title would get them more attention, it was thought. So, posters were made depicting a hand approaching a man's trouser zip, some with the catchy phrase "get into Japan" emblazoned across the top. Other, smaller versions were placed throughout the pages of the rock weeklies, with no text, to keep people curious. A TV advert was also produced, which allegedly shows David walking up some stairs with his back to the camera, then turning round, opening his jacket to reveal a pair of superimposed breasts! The second strategy was to capitalize on Japan's looks. With this in mind they soon began to appear in teenage magazines. This was all before the release of any records - and before David, Steve and Mick had changed their names. By early 1978 they became David Sylvian, Mick Karn and Steve Jansen, unfortunately leading to some nasty jokes in the press; Napier-Bell was seen as their mentor and he even began to think that it was his reputation that was causing them harm. However, Simon and the group became good friends and he went on to see them through all the good times as well. A famous publicity stunt from this era was to send Actor/Sumo wrestler Kendo Nagasaki in a cab around all the rock magazines armed with ample supplies of Rice Wine and copies of the album. This was publicly frowned upon by some journos, and Japan got a reputation for being party monsters as a result (well, briefly maybe). However, with Hansa's backing Japan also received more favourable coverage in the mainstream rock magazines in Germany and The Netherlands as well, building up a strong following. Finally, the Japanese press arrived, and Japan were just what they were looking for; Queen were the biggest foreign group in Japan and at the time of "Adolescent Sex" they had a lot in common, not least a glamorous rock image and a great guitar and synth sound. Japan were soon popular pin-ups, without a note of their music having been released.
In March 1978, the single "Don't Rain On My Parade" and album "Adolescent Sex" were unleashed on the British public.
David: "I don't think that the first album should have been released - I don't really like it. If "Obscure Alternatives" had been the first album, then things may have worked out a lot differently. "Adolescent Sex" was a little premature for us. It could have been so much better." (Melody Maker 16/2/80)
In April 1978 Japan went on tour with The Blue Oyster Cult, but were not well received by the fans of that band:
David: "It was an invaluable experience for us, because if you can cope with an audience like that you can cope with anything." (Melody Maker 16/2/80)
(Ironically, at the time the group had to choose between a tour of small venues supporting a then not well known band called Talking Heads and The Blue Oyster Cult...)
Straight afterwards, the group went into the studio to record "Obscure Alternatives". This turned out to be quite a stressful time, with the group (particularly David) arguing with Ray Singer. It was at this point that the first near-split happened; the group felt disheartened by the poor press they were getting, they were not enjoying the album, and David particularly was feeling pressure (privately) to write material that would keep everyone happy.
David: "On "Obscure Alternatives" our relationship with the producer (Ray Singer) wasn't too hot at the end. I don't really think he understood what we were doing, and I'd like to take half the songs on the album back into the studio and remix them." (Melody Maker 16/2/80)
"The Tenant" was produced by the group alone and it is the earliest indication of the direction that would lead to "Ghosts" and from there to "Brilliant Trees" and David's solo work. Another factor that encouraged the group at this time was the reaction of the Japanese fans. When "The Unconventional" single and Japan's debut album were released over there they were snapped up by an eager magazine-fuelled fan base. Ironically, what Japan were not satisfied with, an album mixing rock with electronics and disco, was quite cool sounding to the Japanese, at the time just beginning to appreciate Y.M.O., but not yet having ingested Punk to any great degree. One artist who recognised Japan early was Masami Tsuchiya (already in the music industry as Yamamoto Sho's guitarist). The fan mail started, and then for the next six months the group could hardly sneeze without it being captured on film by the likes of Watal Asanuma and his friends from the Japanese teen magazines.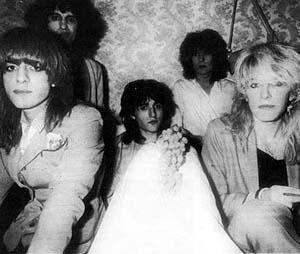 In the summer, the group booked a residency at the Lyceum in London. This was followed by an appearance at the Bilzen Festival in Belgium. The day after, while in Maastricht, Steve got very ill and the group rushed back to London as he had a burst appendix. Recovering, he was plastered across the Japanese press from his hospital bed, the pictures showing him being visited by the rest of the group, munching on a huge bunch of grapes. (Thanks to Gerda van Roshum for confirming this).
Japan's one and only American tour took place in the Autumn of 1978. The US branch of Ariola were very pleased with "Obscure Alternatives" and rush-released it to capitalize on the visit (hence the US album's different track order).
Mick: "Japan was never successful in America. We went there in 1978, for our one and only tour, if it can be called a tour, four dates, two on the West Coast and two on the East Coast. It was at a time when punk was at it's height, and we weren't accepted at all. David Sylvian really built up a phobia about ever going there again. So we never made it back - a shame. Touring with Japan was always a mixed bag; I was probably the only one who enjoyed it. David hated it, absolutely hated it." ("Tooth or dare", Gibson Keddie, Bassist & Bass Techniques, October 1996)
Japan's first album had been slammed in the press, but a few more positive noises were being made by the time of the second album "Obscure Alternatives" in October 1978. Japan's first two albums also gained some popularity in Canada. Then came the European single "Adolescent Sex", which reached the top 30 in the Netherlands.
The group planned to tour Australia and Japan in late 1978, but David had a throat problem (tonsillitis) that required an operation and recuperation. During this time David developed a more comfortable singing style, possibly not consciously, which became noticeable during the next spring's Japanese tour.
Another reason that the group had to cancel the Australian and European tour dates was that Rob Dean broke a bone after getting his legs tangled in wires during a rehearsal. His leg was still in plaster when the group made a short film for the Japanese and European tours.
Before they left for Japan, the group began to record demos for their next album, including "European Son", "Halloween" and another two (un-named) disco/electronic influenced numbers.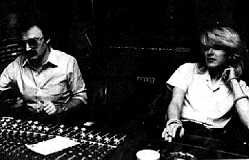 For the next single "Life In Tokyo" Japan chose a new producer, Giorgio Moroder.
During the Japanese tour, in March 1979, the group had introduced more synthesizers and dance beats into their set with "European Son":
David: "We chose to record with him (Giorgio Moroder) because we'd written about three songs in his style. After making contact I flew from Japan to LA to meet him. After playing the songs, he said that if he was going to produce us he'd like to co-write one, so that's how "Tokyo" came about. A lot of people thought that we were trying to cash in on his name, which wasn't true. You use a producer for his sound, and that's why we were attracted to Giorgio in the first place. There are still a few numbers around, one of which should be out on an EP soon, that were written before we met Goirgio and show that we were already getting into that style." (Melody Maker 16/2/80 - he must be referring to "European Son" which was first released in March 1980 on the Canadian "Special Edition" EP and in Japan as the b-side of "I Second That Emotion".)
After "Life In Tokyo" Japan played a couple of live dates in Europe, introducing "Halloween" to the live set, then recorded a new version of "European Son" and "All Tomorrows Parties" with Simon Napier-Bell at NOMIS before spending more time in the USA:
David: "There was a period of about six months when we weren't really sure where we wanted to go, who we wanted to work with and what style of music we wanted to do. We were living in New York during that time, and we were trying to settle a new American record deal because we'd lost the one we had. That's another reason why things have been moving so slowly for us. It was like re-evaluating what we'd done up to that point. We didn't want to go back on the old material and start playing that live again, so we decided to wait until we'd finished a new one. Initially we'd planned to record in America because John Punter, who we wanted to produce us, was very tied up, although he wanted to do it. We didn't really want to wait, so we left for the States and talked to a few producers, but none of them seemed right - they didn't suit the album. We wrote most of the material and got it together over there, but in the end we rang John Punter again, who by that time was free. So we came back because he wanted to work at Air. At first it was a very tense atmosphere in the studio, and it wasn't until we'd almost finished that we developed a really good relationship with John. Now we're very close, and he'll be working with us a lot more." (Melody Maker 16/2/80)
What David doesn't mention is that during the time in the USA the group went through some pretty dark times, nearly split up and even their manager was thinking of quitting, having invested a lot of time, energy and money with little return:
Simon Napier-Bell: "I had Japan on one side and NOMIS (studio and rehearsal complex used by Japan) on the other. Everyone was saying "Napier-Bell's really come back" Magnificent studios; wealthy man". I was thinking, "Bloody hell, I've just lost about a million pounds in four years and my name's beginning to get known. I'll soon be known as a bloody idiot."
There was a temporary reprieve, however, (December 1979) with "Quiet Life" the single a big success in Japan and the album of the same name actually charting in the UK!
David: "It was the only album I was truly satisfied with and I see it as a peak for the band." (Smash Hits 3~6/9/81)
[image: Steve with Jane Shorter and John Punter]
In the spring of 1980, Japan recruited saxophonist Jane Shorter to perform during the "Quiet Life" tour. John Punter helped create the group's live sound and toured with the group three years running.
Despite some better press coverage and the steady sales in Japan, the rest of the world's record shops had unsold copies of "Quiet Life" rattling around the bargain bins.
"I decided it just had to stop. It was a practical business decision. You cut your losses and start again. It was no use. I hadn't broken them. Perhaps I was the wrong manager. I couldn't go on bleeding my money. It probably wouldn't have been any use to them anyway." ("Star makers and Svengalis" by Johnny Rogan)
However, when it came to the point when he had to tell Japan it was all over, Simon decided instead to stick with the group; they had become his friends. They agreed to work harder to break the singles market. With that in mind, the group recorded "I Second That Emotion" (March 1980) and made plans to gain more publicity in the British press:
Simon: "We thought up this terrible publicity stunt - "The Most Beautiful Man In The World" - which David hated, but something had to be done." ("Star makers and Svengalis by Johnny Rogan)
It was not enough. Despite another successful Japanese tour Hansa decided not to finance another Japan album. Simon set about wheeling and dealing; A&M, CBS, EMI and Virgin all expressed an interest in Japan; the group eventually signed on the dotted line with Richard Brandson's company in June 1980, while Victor continued to represent the group in Japan. However, during 1980 the phenomenon of the New Romantics was in the headlines. Japan were seen as a major influence; tracks like "Life In Tokyo" and "Quiet Life" were popular in discos and it looked like Virgin would be able to crack the group in the UK. Hansa had second thoughts and tried to restrain the group through the courts. The legal costs were great but with the hope of greater success in mind, Simon generously wrote of the (allegedly) six figure sum that the band owed him. Japan were now able to record their next album, "Gentlemen Take Polaroids".
"Polaroids" continued on from "Quiet Life" with John Punter once again at the controls. Sadly, the band were growing apart as fast as David was becoming more confident as a composer and arranger. Rob Dean and Mick Karn began to spend more time outside the group and David became more than ever the leader. A welcome break came when Ryuichi Sakamoto, who the band had met earlier in the year in Japan, popped in from across the corridor at Air Studios where he was recording his album "B-2 Unit". Ryuichi wrote "Taking Islands In Africa" in the studio and it was quickly added to the Japan album. Perhaps in an effort to encourage more group effort, Rich and Rob both contributed songs during the sessions, "The Experience of Swimming" and "Width of a Room", which were released on the "Gentlemen Take Polaroids" EP and can now be found on the American pressing of the CD album.
The "Gentlemen Take Polaroids" EP crept into the lower reaches of the charts in the UK and the album became their biggest seller in Japan, remaining a fan favourite.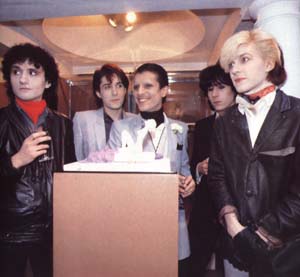 After a successful show at the Lyceum, where 1000 disappointed souls had to be turned away after the show sold out, Japan held multimedia exhibitions at Parco in Tokyo and at the Hamiltons Gallery in London. The main feature was Mick's sculpture, but some of Steve and Rob's photographs were shown and some new music composed by David and Rich played in the background. This same music, all unreleased, was also used later at The Penguin Cafe in Covent Garden. The Penguin Cafe was an enterprise run by Mick and Yuka Fujii. The menu included orange blossom tea, chickpea patties, jelly with pineapples and pastry versions of Mick's sculpture.
At the beginning of 1981, Japan appeared in the "Smash Hits" readers poll, a sure sign that success was just around the corner. They began to get some favourable press too; with younger bands looking up to them.
Simon: "They were so well known it was extraordinary. They'd single-handedly created the New Romantics who were having hits all around them. Duran Duran dressed like Japan and even begged the group to produce them, then they went off and made a sensible commercial hit record. Japan could not do that. They played their own esoteric music. But it gelled on "Tin Drum". And when it gels it sells!" (Star makers and Svengalis, Johnny Rogan)
"Tin Drum" began, though, with a sad note as Rob Dean decided to leave the group. It had been a long time coming. He agreed to stay on for a Japanese and UK tour in Spring 1981, but did not play on "The Art Of Parties", which was Japan's biggest UK single up to that point. In the same week that single was released, Hansa began their re-issue campaign in earnest with "Life In Tokyo". This wasn't a great success, but the next single, a previously rejected version of "Quiet Life" hit the top 20. Suddenly, Japan were required to appear on Top Of The Pops - they had become teen sensations overnight, after four years!
From this point on (summer 1981) Japan enjoyed a string of hit singles in the UK and European charts, alternating releases between Hansa and Virgin. The group, making the best of it, got involved with the Hansa releases to the extent of performing remixes (with "Tin Drum" producer Steve Nye) and designing the record sleeves. It has even been suggested that Mick re-recorded his bass part on "Life In Tokyo" for the "special remix" version that was a hit in the UK.
Hansa next rushed out the compilation album "Assemblage", which was many fans first Japan album purchase. It was a great success of course - and meant that Japan had a high profile for the release of the proper new album, "Tin Drum" and the "Visions of China" single and tour.
[image: Steve Nye, John Punter and David]
For the "Visions of China" tour Japan employed the services of David Rhodes on guitar. He became a regular member of Peter Gabriel's band and has since played live with Mick at Princes Trust charity concerts.
During 1981, Mick held sculpture exhibitions in London and Japan, plus the group got involved in a restaurant "The Penguin Cafe", for which the group made several ambient tracks as background music. "A Foreign Place" is probably one of those numbers.
Japan being the band they were, decided to split up in 1982 just as they became seriously big with "Ghosts". The main reason was a personal conflict between David and Mick. Trouble had been brewing for some months. Simon and Virgin convinced them to stick it out, giving the group time to build up some financial security while giving them the freedom to pursue solo projects. In return they promoted the singles taken from "Tin Drum" and "Assemblage" (which gave Japan total 52-week chart coverage in 1982 - the only group to do so that year according to The Guinness Book of Records) and also agreed to tour again at the end of the year. (As a fairly new fan, 1982 seemed like a good year to me. All of the Hansa material was just as "new" to me as the Virgin material then and the way that the various members were getting a lot of press meant that they seemed to be always around, not in Japan or somewhere which was where they really were. It was saddening to hear of the plan to split, as a new album had been a continual suggestion for after the tour, particularly from David).
The final Japan tour was their longest. They were joined by Masami Tsuchiya on guitar, keyboards and backing vocals. Their support band was Sandii & The Sunsetz and members of Y.M.O. made a special guest appearance at the Budokan concert.
Japan disbanded on the 16th December 1982 after their final concert in Nagoya, Japan. For many fans though, this was not enough and they proved their loyalty by getting the posthumous live album, "Oil On Canvas" into the UK top 5.
The members of Japan have continued to release albums, sometimes together, including "Rain Tree Crow" in 1991, which re-united David, Mick, Rich and Steve. More recently, Rob returned to the fold to work on the "Beginning To Melt" album on Medium, with Mick, Rich and Steve. The 1990's and years beyond have proved that together or apart, the members of Japan still make unique music, that recognises no boundary of convention, "taste", style or form. Take a listen to Japan's music; this is one group of people where you can't say you've heard it all before.
Dedicated to the memory of Mick Karn.

---