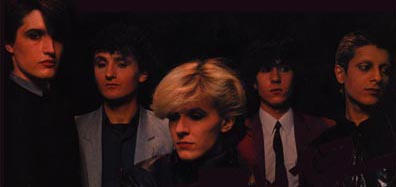 1972 - David and Steve start playing music together; initially both on guitar

1973 - JAPAN formed with Mick on lead vocals and bass, David on guitar and backing vocals, Steve on drums

June 1974 - first JAPAN performance at Mick's brother's wedding reception; David becomes lead vocalist

Summer 1974 - first appearance in South London local paper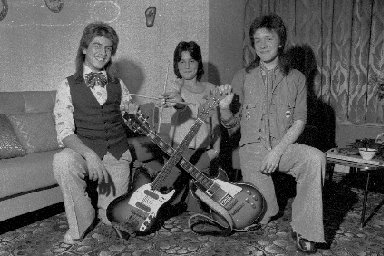 Early 1975 - Mick meets Richard by chance at Catford Bridge railway station and is invited to see the band rehearse; Richard joins the group on keyboards (but is sacked and later reinstated after having improved his playing ability).

April 1975 first public gig since Richard joined, but he is in the audience
Late 1975 Rob joins the band; Richard is playing in the band on a regular basis
Early 1976 JAPAN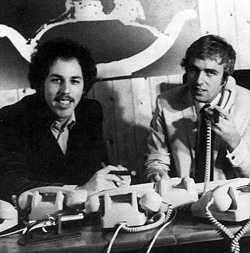 sign a management deal with Danny Morgan and Simon Napier-Bell. First studio recordings made. Regular live gigs throughout 1976 and 1977.

January 1977 Second studio recordings made with Simon Naper-Bell producing.

May 1977 Hansa audition and deal signed
Late 1977 recording "Adolescent Sex" album, produced by Ray Singer

Spring 1978 "Don't Rain On My Parade" and "Adolescent Sex" album released; Blue Oyster Cult tour of the UK
April 1978 attend Kate Bush party and pictures published in Japanese magazines, causing a sensation; Victor Records sign a deal to release the group's records in Japan for 5 years.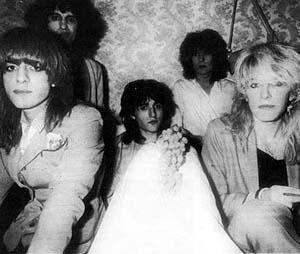 Summer 1978 recording "Obscure Alternatives" and regular gigs at The Music Machine in Camden; Steve has an emergency operation to remove his appendix. "The Unconventional" single released in the UK and Japan

Autumn 1978 "Adolescent Sex" a hit in Europe; US tour; "Obscure Alternatives" released worldwide
November 1978 first UK tour as headliners; shows include Birmingham Barbarellas with Duran Duran in the audience
Late 1978 huge album sales in Japan and Spring 1979 tours of Japan and Europe announced
Early 1979 "Deviation" single in the Netherlands

March and April 1979 tours of Japan and Europe

March 1979 "Life In Tokyo" recorded with Giorgio Moroder; released in April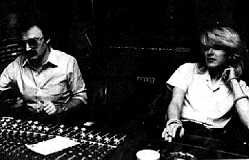 June 1979 the band begin recording the "Quiet Life" album and travel to the US and Canada; band begin their association with John Punter who produces 3 albums for the band between 1979 and 1983 and accompanies them on most tours as sound engineer.

November 1979 JAPAN play Toronto and the "Quiet Life" album is released in Canada and Japan
January 1980 "Quiet Life" released in the UK, Europe and Australia; David meets Ryuichi Sakamoto for the first time

January to March 1980 "Quiet Life" tour and the band travel in the Far East; Jane Shorter joins the band on saxophone and would return for future live dates until the end of 1980


Spring 1980 "I Second That Emotion" recorded and released, in some countries as the b-side of "Quiet Life"
Summer 1980 "Live In Japan" EP released on Hansa prior to the group signing with Virgin Records. Victor continue to release the band's albums in Japan.
August 1980 recording "Gentlemen Take Polaroids" album and attend the recording of "B-2 Unit" by Ryuichi Sakamoto; meet Steve Nye who will go on to produce "Tin Drum" and several solo Sylvian records.

October 1980 JAPAN see Yellow Magic Orchestra live in London

November 1980 "Gentlemen Take Polaroids" released and debut UK TV appearance on the Old Grey Whis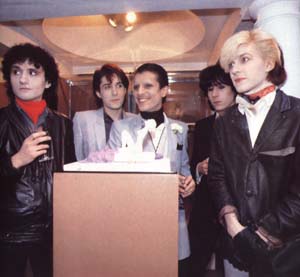 tle Test
Late 1980 Mick Karn's first sculpture exhibitions in London and Tokyo
Early 1981 Mick and Yuka Fujii open "The Penguin Cafe"
February 1981 Polaroids tour with dates in the UK and Japan
April 1981 recording "The Art Of Parties"; Rob Dean leaves the band but agrees to take part in the next tour
May 1981 "The Art Of Parties" tour; Rob Dean's last show with the band mid-month. "Life In Tokyo" reissued by Hansa

June 1981 recording of "Tin Drum" commences

August 1981 "Quiet Life" UK single released and "Assemblage" planned with the input of the band
September 1981 first Top Of The Pops appearance and JAPAN start to sell records to a greater degree in the UK; "Assemblage" compilation released

October 1981 "Visions Of China" single release
November 1981 "Tin Drum" released and the "Visions Of China" tour begins, with David Rhodes on guitar and Blancmange supporting

December 1981 "Visions Of China" tour continues until the 23rd; "European Son" remixed single released
December 1981 - January 1982 "The Art Of Parties" exhibition in Tokyo
January - March 1982 various press interviews hint that the band may split; personal difficulties between Mick and David become public knowledge; the band announce the "Sons Of Pioneers" tour to dispel rumours. The band record sessions separately with Ryuichi Sakamoto, Akiko Yano and Masami Tsuchiya

March 1982 "Ghosts" single

May 1982 "Cantonese Boy" single

July 1982 "I Second That Emotion" remixed single; Mick Karn "Sensitive" single and Sylvian/Sakamoto "Bamboo Houses" single; David and Steve tour Japan with Yukihiro Takahashi; Richard and Mick record with Lustans Lackejer in Sweden

October 1982 "Sons Of Pioneers" tour begins, with Masami Tsuchiya on guitar and Sandii & The Sunsetz playing support and continues until December 16th; "Life In Tokyo" remix single released

November 1982 remixed "Nightporter" single released; "Titles" by Mick Karn released; the band announce that they will split following the tour and the release of a farewell live album

January to February 1983 the band reunite to mix "Oil On Canvas"

June 1982 "Oil On Canvas" released.



---